Last Updated: 10/10/18
Pacific Northwest Prostate Cancer SPORE
Fred Hutchinson Cancer Research Center/University of Washington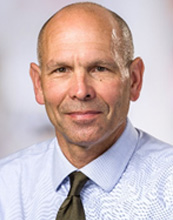 Principal Investigator(s):
Peter S. Nelson, M.D.
Co-Investigator(s):
Janet L. Stanford, Ph.D.
Daniel Lin, M.D.
Principal Investigator Contact Information
Peter Nelson, M.D.
Fred Hutchinson Cancer Research Center
Division of Human Biology
1100 Fairview Avenue North, D4-100
PO Box 19024
Seattle, WA 98109-1024
Tel: (206) 667-3377
Fax: (206) 667-2917
Email: pnelson@fhcrc.org
Overall Program Description
The Pacific Northwest (PNW) Prostate Cancer SPORE comprises a coordinated effort of four institutions with established programs and strengths in translational prostate cancer research and career development: 1) the Fred Hutchinson Cancer Research Center (FredHutch); 2) the University of Washington (UW) and its affiliated institutions; 3) the University of British Columbia and the Prostate Centre of Vancouver General Hospital (UBC); and, 4) Oregon Health and Sciences University (OHSU). These institutions have large multidisciplinary teams of investigators and laboratories dedicated to prostate cancer research and a history of working closely together within this larger environment. The respective teams of clinicians and researchers at these institutions bring considerable scientific depth and breadth required for achieving our ultimate goal of reducing the morbidity and mortality associated with prostate cancer.
Our translational goals are based on the basic concept of individualizing the inter-dependent triad of tumor, host, and environment to accurately understand the genesis of PC and projected outcomes, and apply appropriate prevention/therapeutic interventions.
Objective 1: Develop an individualized understanding of heritable and environmental risks that contribute to the development of lethal prostate cancer, and devise screening methods and protocols to prevent, or detect and treat these cancers at a curable stage, while mitigating side-effects and maintaining quality of life.
Objective 2: Develop and exploit preclinical models and systems capable of accurately evaluating cause-and-effect relationships between heritable and somatic (tumor) variation with respect to tumor phenotypes, and models capable of rapidly testing the effectiveness of interventions/therapeutics directed toward specific molecular vulnerabilities that are concordant with those found in lethal clinical prostate cancer.
Objective 3: Develop new diagnostic methods and therapeutic approaches, based directly on findings from men with PC, and test their effectiveness in rigorous clinical trials that incorporate methods to understand tumor variables and response/resistance mechanisms.
PROJECT 1: Molecular Predictors of Prostate Cancer Progression and Mortality
Project Leader(s):
Janet L. Stanford, Ph.D.
Colin Pritchard, MD, PhD
Co-Investigator(s):
Heather Cheng, MD, PhD
Daniel Lin, MD
Prostate cancer (PC) is a major cause of cancer-related morbidity and mortality. Prostate-specific antigen (PSA) screening is controversial, and current consideration of high-risk men is inadequate. Additionally, clinicopathological criteria are insufficient to differentiate indolent versus aggressive disease. The recent discovery of a high prevalence of high-to-moderate penetrance germline cancer risk mutations in metastatic PC (mPC) will lead to increased genetic testing and cascade testing of unaffected male relatives, thus identifying men at high risk for developing aggressive PC. Preliminary evidence suggests the need for refined cancer screening in this high-risk group. The overall intent of this project is to find men with germline mutations of interest, both those with mPC as well as their male first-degree relatives who are at high risk for aggressive PC. We seek to further characterize PC in the context of germline DNA repair gene (gDRG) defects using evaluation of clinical, pathologic and molecular features, including targeted next generation sequencing methods; to recruit at-risk male first-degree relatives through cascade genetic testing; and to offer a novel PC early detection clinical trial incorporating novel biomarkers, including age-adjusted PSA thresholds, imaging, novel urine biomarkers and the tumor prognostic biomarkers we discovered and validated in the past grant period, and to further understand the crucial process of cascade genetic testing that will be required for optimal outcomes. The proposed aims are:
Specific Aim 1: Determine clinical, pathologic and molecular predictors of gDRG mutation carriers among men with mPC. Specific Aim 2: Conduct an early detection study for male gDRG mutation carriers at high risk for mPC. Specific Aim 3: Characterize the stepwise cascade genetic testing process from index cases to their at-risk first-degree relatives (FDRs).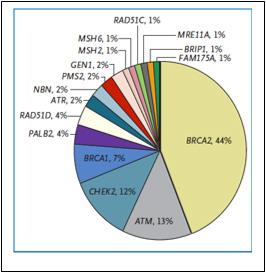 This effort builds upon our current population-based SPORE work focused on finding and validating novel prognostic biomarkers for aggressive PC and transitions towards a more direct clinical applicability. We believe our approach will be of high interest and relevance to men with mPC and gDRG, and their sons and brothers who may be at increased risk for mPC due to carrying the same gDRG mutation. At present, no unified PC early detection recommendations exist for men at increased PC risk defined by inherited gDRG mutations. Our PC early detection clinical study will use established and novel minimally invasive biomarkers with a goal of changing the standard of care for this high-risk group.
PROJECT 2: Targeting Emergent Vulnerabilities in AR-Inactive Prostate Cancer
Project Leader(s):
Colm Morrissey, PhD
Joshi Alumkal, MD
Co-Investigator(s):
Eva Corey, PhD
Hung-Ming Lam, PhD
Laure Heiser, PhD
Other Significant Contributor(s):
Tomasz Beer, MD
Victor Thomas, MD, MMED SCI
Treatment options for patients with castration-resistant prostate cancer (CRPC) are expanding. However, 27,000 men will still die from this disease in 2017. We and others have found that widespread use of novel and more potent androgen receptor (AR)-targeting agents has increased the clinical frequency of virulent and untreatable AR-independent CRPC subsets. These subsets include: AR-indifferent prostate cancer (AIPC) with persistent AR expression but reduced AR function, neuroendocrine prostate cancer (NEPC), and AR-null tumors without neuroendocrine differentiation that we have termed double-negative prostate cancer (DNPC). However, very little is known about what factors promote the transition to and maintenance of specific AR-independent subsets. Furthermore, there are no effective treatments for patients with these tumors. The goal of this proposal is to overcome those deficits. Our studies using human AIPC, NEPC, and DNPC patient tumors and model systems identified specific transcriptional regulators, including BET bromodomain chromatin reader proteins, Master Regulator transcription factors (TFs), and kinases that are activated in AIPC, NEPC, and DNPC. In this proposal, we will test the overarching hypothesis that gene networks regulated by BET bromodomain proteins, aberrantly activated TFs or kinases, and other key signaling pathways promote AR-independent CRPC cell survival. We propose the following Aims:
Aim 1: Determine the anti-tumor activity of BET bromodomain inhibitors in patients with AR-independent CRPC.
Aim 2: Identify and target critical Master Regulator transcription factors and kinases that promote AR-independent cell survival.
Aim 3: Identify molecular markers of transition from AR-active to AR-independent CRPC subsets and identify and target critical pathways that promote survival of specific AR-independent subsets.
The completion of the proposed work will lead to the development of rational clinical trials of BETi drug combinations to block critical networks that sustain the survival of AR-independent, lethal prostate cancers.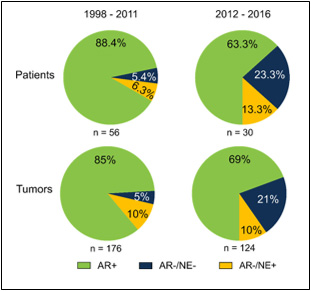 PROJECT 3: Oncofetal Glycosaminoglycans as Molecular Targets in Prostate Cancer
Project Leader(s):
Mads Daugaard, PhD
Martin Gleave, MD
Other Significant Contributor(s):
Nader, Al Nakouzi, PhD
David Perrin, PhD
Anomalous expression of glycosaminoglycans (GAG) such as chondroitin sulfate (CS) has been recognized in prostate cancer (PC) for decades. While CS is a potentially attractive tumor antigen in PC, utility of CS variants as therapeutic targets represent a technical challenge due to inherent low avidity of antibodies towards complex GAG structures. Embracing that challenge, we have developed a cross-disciplinary CS targeting strategy for PC based on engineered recombinant proteins from the malaria parasite Plasmodium falciparum. As a survival strategy to avoid host clearance, the malaria parasite has evolved a protein VAR2CSA that mediates high affinity binding to distinct CS in the placenta. PC express the same type of CS as placental trophoblasts thus recombinant malarial VAR2CSA (rVAR2) proteins can be re-purposed to target oncofetal CS (ofCS) modification in PC. Expression of ofCS in primary PC is not restricted to the tumor epithelium but is also present in the stromal cell compartment. Moreover, the rVAR2 protein can detect and isolate circulating tumor cells (CTCs) from complex blood samples. Finally, we have an rVAR2-Drug Conjugate (VDC886) able to engage ofCS-expressing PC cells in vitro and in vivo. Combined, our technology can access and target a tumor-selective GAG structure in PC for diagnostic and therapeutic applications.
We hypothesize that our rVAR2-based ofCS-targeting system constitutes a novel therapeutic and diagnostic opportunity in human PC. Our hypothesis will be tested in the following Specific Aims:
Aim 1: Preclinical evaluation of VDC886 as a novel treatment for metastatic CRPC (mCRPC).
Aim 2: Visualization of metastatic PC lesions by ofCS PET imaging.
Aim 3: Design and execute a phase I trial of VDC886 in mCRPC.
PROJECT 4: Clinical Development of Therapeutic Strategies Targeting DNA Damage Repair
Project Leader(s):
Peter S. Nelson, M.D.
R. Bruce Montgomery, M.D.
Co-Investigator(s):
Colin Pritchard, MD, PhD
Metastatic prostate cancer (mPC) is a lethal disease with essentially no curative therapy. However, in unselected patients, widely divergent responses to conventional and experimental therapeutics are routinely observed, with occasional 'outlier' or 'exceptional' responders exhibiting durable complete responses and others exhibiting immediate disease progression. This diversity suggests that underlying biological mechanisms accounting for treatment responses can be identified and exploited to prioritize specific therapeutics predicted to have benefit and avoid treatments predicted to lack activity.
The genomic landscapes of mPC demonstrate that a substantial fraction of mPC tumors harbor somatic defects in DNA repair genes (DRGs) including BRCA1, BRCA2, ATM, MSH2/6 and others. This finding has important treatment ramifications as a substantial body of preclinical and clinical work indicates that particular types of DNA repair deficiency, particularly Homology Directed Repair (HDR) Deficiency (HDR-D) result in heightened vulnerabilities to at least two drug classes: platinum (PLAT) chemotherapy and PARP inhibitors (PARPi). Also, of importance, tumors without a HDR-D genotype/phenotype are less responsive to these drugs.
In this proposal we will test the hypothesis that specific aberrations (germ-line or somatic) in genes involved in repairing DNA strand breaks by HDR are predictive of meaningful clinical responses to FDA-approved genotoxic therapeutics and drugs that impair mechanisms of repairing DNA. We will also determine if rational combinations of novel therapeutics targeting DNA repair processes or inducing DNA damage in cancers with HRD will bypass or overwhelm resistance pathways. We have 3 aims:
Specific Aim 1: Conduct Phase 2 clinical trials of genotoxic therapeutics in patients with mCRPC to determine response rates, identify resistance mechanisms, and establish associations between specific HDR genomic defects and the depth and duration of clinical responses.
Specific Aim 2: Evaluate rational combinations of pharmacological agents targeting DNA repair pathways using Patient Derived Xenograft (PDX) models of mCRPC with inherent or engineered HDR aberrations.
Specific Aim 3: Develop minimally-invasive biomarkers involving the capture and analysis of circulating tumor DNA capable of distinguishing patients for therapeutics targeting DNA repair pathways.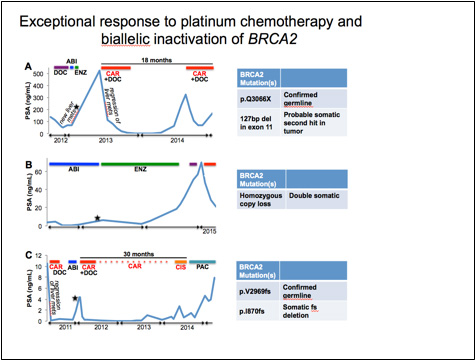 Leadership and Administrative Core
Peter Nelson, MD, Co-Director
Janet Stanford, PhD, Co-Director
Daniel Lin, MD, Co-Director
The Leadership and Administrative Core (LAC) will serve to integrate and enhance the research conducted by the Pacific Northwest Prostate SPORE Projects and Cores – as well as faculty supported by the Career Enhancement and Developmental Research Programs – through the application of general administrative support and the facilitation of communication and data dissemination.
The Core will also provide formal links between the following entities:
(1) All investigators comprising the Pacific Northwest (PNW) SPORE in prostate cancer;
(2) Advisory Panels (e.g., External Advisory Board [EAB], Internal Advisory Board [IAB], etc.);
(3) The institutions (e.g., FHCRC and other SPORE participatory sites) with laboratories and clinical facilities wherein occur the research and education components of the SPORE; and
(4) Representatives of the National Cancer Institute (NCI).
This Leadership and Administrative Core has the following Specific Aims:
Specific Aim 1: To provide the organizational structure, based on a group of interacting committees, for supporting and evaluating the key objectives of the PNW SPORE.
Specific Aim 2: To provide oversight of all SPORE activities involving the independent research projects, the Career Enhancement Program (CEP), the Developmental Research Program (DRP), the shared resource Cores, and the parent institutions.
Specific Aim 3: To organize and coordinate forums for interactions of the Executive Committee, Internal Advisory Board, and External Advisory Board.
Specific Aim 4: To provide efficient and effective fiscal management of SPORE grant funds.
Specific Aim 5: To communicate and consult with the NCI Project Officer(s) and staff in the preparation of required progress reports, publications lists, and regulatory documents.
Specific Aim 6: To develop and maintain virtual mechanisms that efficiently facilitate multi-institutional, intra- and inter-SPORE interactions.
Biospecimen and Pathology Core
Colm Morrissey, PhD, Co-Director
Eva Corey, PhD, Co-Director
Lawrence True, MD, Co-Director
The Biospecimen and Pathology Core provides part of the infrastructure support for the major projects comprising the Pacific Northwest Prostate Cancer SPORE as well as for research conducted through the developmental research and career enhancement programs. It has been designed to meet the needs of these projects and serve as a resource for collaborative efforts with other SPOREs. This Core will provide a systematic and standardized system of specimen collection, storage, distribution and related clinical/research information dissemination that is based on over two decades of experience. There will be consistency and quality assurance in the pathological analysis of tissue specimens. This Core has 5 components:
Specific Aim 1: Clinical specimen acquisition (i.e. tissues, including those from surgery and the rapid autopsy program, serum, plasma and urine), processing, quality control, storage, distribution and database entry;
Specific Aim 2. A program to continually improve the quality and efficiency of biospecimen acquisition, processing and storage to increase the fidelity of specimens provided to the SPORE investigators;
Specific Aim 3. Maintain prostate cancer xenograft lines established by the Core and make specimens available for biological study and/or perform pre-clinical studies for SPORE investigators and collaborators;
Specific Aim 4. Laboratory services, including production of tissue microarrays, interpretation of immunohistology by urologic pathologists, production of specimen derivatives and perform PSA immunoassays for research;
Specific Aim 5. An administrative program to obtain samples from minorities, prioritize the distribution of specimens, ensure patient confidentiality and compliance with IRB requirements, maintain and improve quality control measures and interact with other SPOREs.
Specimens from our repository, especially those from our rapid autopsy program (e.g. PC bone metastases) and our LuCaP series of prostate cancer xenografts have been, and will continue to be distributed to other PC investigators on an international basis.
Biostatistics and Analytics Core
Ruth Etzioni, PhD – Core Director
The Biostatistics and Analytics Core will provide essential data and analytics support to investigators on the Northwest Prostate Cancer SPORE. This Core will link study design, data collection, measurement, and analysis to validly address the critical hypotheses and questions of the Pacific Northwest Prostate Cancer SPORE through the following Specific Aims:
Specific Aim 1: Study design. Define study hypotheses, study populations, and experimental parameters to answer the research questions of interest, reduce systematic bias, and ensure a high likelihood of detection of biologically meaningful effects. As part of this aim Core C will provide power calculations when needed for each project.
Specific Aim 2: Analysis and interpretation. Identify and implement quantitative methods to address the scientific questions of interest and provide valid statistical inferences about the evidence addressing the various study hypotheses. Work with study investigators to clearly communicate methods and results in study publications and insure that reported conclusions are justified.
The Biostatistics Core is integral to the collection, validation and analysis of data for SPORE projects. Further, where appropriate statistical methods are inadequate or lacking, Core personnel devise and implement novel analytic approaches. The Core will provide: (1) prompt responsiveness with respect to biostatistical and bioinformatics analyses; (2) appropriate expertise to select and implement an optimal approach to study design and analysis; (3) customized dataset creation and analysis; and (4) clear communication of study findings, conclusions, and limitations to investigators and the broader community.
Clinical Core
Evan Yu, MD – Co-Director
John Gore, MD – Co-Director
This Clinical Core is specifically designed and supported with the objective of facilitating the translational mission of the Pacific Northwest (PNW) Prostate Cancer SPORE. Each of the five major projects directly utilizes patient-derived materials and attendant clinical data, and most are designed with a patient-directed interventional trial. However, there are major barriers between clinical, basic and population-based research that constrain progress; thus, the Aims of this Core were formulated to assist the major projects, developmental projects, and career development awardees in the rapid advancement of their research objectives.
The Clinical Core has the following Specific Aims:
Specific Aim 1: To design, execute, accrue to, and otherwise facilitate the conduct and timely completion of human clinical trials relevant to SPORE translational science. The Clinical Core will support major research projects, developmental research studies, and clinical trials related to the Career Enhancement Program.
Specific Aim 2: To design, direct, and assist with patient recruitment for biospecimen acquisition.
Specific Aim 3: To direct, support, and enhance CAISIS (repository of clinical and patient-reported data) to support clinical and translational prostate cancer research across the SPORE sites.
Specific Aim 4: To ensure that SPORE Major and Developmental Projects maintain a patient-centered focus, we will support and engage the SPORE Advocacy Committee in the activities of the SPORE.
Career Enhancement Program
Program Director(s):
Janet L. Stanford, Ph.D.
Peter S. Nelson, M.D. (Co-Director)
The Career Enhancement Program (CEP) is an essential component of the PNW Prostate Cancer SPORE that serves to sustain and enhance our mission by attracting and nurturing new and talented research faculty. The CEP will continue to implement a strategy that has successfully developed clinical, basic, and population scientists for productive careers in translational prostate cancer research.
The Specific Aims of the CEP are to:
Provide research support and collaborative expertise for junior faculty, advanced fellows, and established investigators who wish to either develop or refocus their careers on translational PC research;
Provide a coordinated system for mentoring faculty and advanced fellows pursuing PC research across a broad range of disciplines;
Create a framework in which investigators can gain exposure to and training in aspects of translational PC research outside their areas of expertise; and
Attract and retain women, minorities, and early career junior faculty who can make key contributions to translational PC research at the institutions comprising the PNW Prostate SPORE.
The CEP will be coordinated between the Fred Hutch and the University of Washington (UW); the Prostate Centre at the Vancouver General Hospital (VGH); and the Oregon Health Science University (OHSU). Our organizational structure works across sites and includes recruitment and monitoring of candidates by a career enhancement committee, educational coordination through a conference and education committee, and access to more than 50 multidisciplinary investigators both within and outside the SPORE whose research interests provide relevant experience in translational prostate cancer research. The CEP educational program combines a wide spectrum of individual research opportunities, formal educational courses, and a large number of conferences and seminars in translational prostate cancer research. We plan to continue to recruit both qualified faculty members and senior research fellows who wish to expand their work in translational prostate cancer research, focusing on the inclusion of women and underrepresented minority applicants. In addition to SPORE grant support, this program will be augmented by substantial institutional resources.
Developmental Research Program
Program Director(s):
Peter S. Nelson, M.D.
Janet L. Stanford, Ph.D. (Co-Director)
Review Committee Chair:
Martin (Mac) Cheever, M.D.
The Developmental Research Program (DRP) of the Pacific Northwest (PNW) Prostate Cancer SPORE is designed to solicit, evaluate, and support innovative pilot projects in translational prostate cancer research. Projects funded under the DRP are intended to rapidly advance a new idea or concept that has the potential to substantially impact our understanding of prostate cancer, and ultimately influence the clinical management of this disease through improved prevention and treatment strategies. Since the inception of the PNW Prostate Cancer SPORE, the infrastructure of the DRP has established mechanisms to quickly respond to translational research opportunities within the PNW SPORE institutions that require support to advance hypotheses or confirm feasibility in order to justify larger resource investments. Developmental projects include research in basic science, clinical science, and population-based studies, and will continue to build collaborations between PNW SPORE sites and other institutions with SPOREs in prostate cancer.
The Specific Aims for the Developmental Research Program are to:
Stimulate the development of innovative, impactful early-phase research studies that include multi-disciplinary interactions with basic, clinical, and population scientists across the PNW Prostate SPORE institutions and including inter-SPORE collaborative studies;
Provide funding (1-2 years) and infrastructure (e.g., biospecimens, biostatistical support) to rapidly test the feasibility of original investigator-initiated projects in all areas of PC research;
Prioritize funding to rapidly exploit new opportunities or support specific areas of strategic importance for advancing the translational research goals of the PNW Prostate SPORE; and
Monitor (and facilitate) the progress of each DRP project and consider their advancement to a full SPORE project.