Last Updated: 10/10/18
Washington University SPORE in Leukemia
Principal Investigator:
Daniel C. Link, MD
PRINCIPAL INVESTIGATOR CONTACT INFORMATION
Daniel C. Link, MD
Professor
Dept of Medicine, Oncology Division
Washington University
613 Southwest Tower
Campus Box 8007
660 South Euclid Avenue
St. Louis, MO 63110
Phone: (314) 362-8771
Fax: (314) 362-9333
Email: dlink@dom.wustl.edu
OVERVIEW
Washington University's Specialized Program of Research Excellence (SPORE) in Leukemia aims to develop novel biomarkers and treatments for leukemias and myelodysplastic syndromes. In this SPORE, we leverage our expertise in cancer genomics, immunology, and hematopoiesis to develop innovative translational research in leukemia.
Our SPORE includes five translational research projects.
Project 1. Molecular determinants of decitabine responsiveness
Project 2. Targeted therapies for T cell acute lymphoblastic leukemia (T-ALL)
Project 3. Novel therapies for splicesome-mutant MDS
Project 4. Bi-specific antibody-based therapies for AML
Project 5. Memory-like NK cell augmented hematopoietic cell transplantation for AML
These projects are supported by three shared resources: Core A. Biospecimen Processing; Core B. Biostatistics; and Core C. Administration. This SPORE also supports a Career Enhancement Program to recruit and mentor new investigators in translational leukemia research and a Developmental Research Program to support innovative translational concepts.
PROJECT 1: MOLECULAR DETERMINANTS OF DECITABINE RESPONSIVENESS
Timothy Ley, MD (basic science leader)
John Welch MD, PhD (clinical science leader)
The long-term goal of this project is to identify the patients with acute myeloid leukemia (AML) who are the most likely to respond to decitabine therapy, and to determine the molecular mechanisms of decitabine responses. TP53 mutated AML has the worst outcomes of all AML subgroups, with 1-year survival rates <20%. We recently reported that TP53 mutated AML and MDS patients respond consistently to decitabine, a hypomethylating agent that can be given as an outpatient. The molecular mechanisms associated with decitabine responses are currently unclear. To extend these findings, we will conduct a clinical trial focused on AML patients with TP53 mutations, and with disease that is relapsed or refractory after cytotoxic induction therapy. We also will explore the genomic and epigenomic signatures associated with decitabine responses, by performing whole-genome bisulfite sequencing (WGBS) and RNA-Seq on all patients (as shown below), to determine whether decitabine causes specific patterns of DNA hypomethylation, whether these changes result in consistent transcriptional signatures, and whether these patterns correlate with clinical outcomes.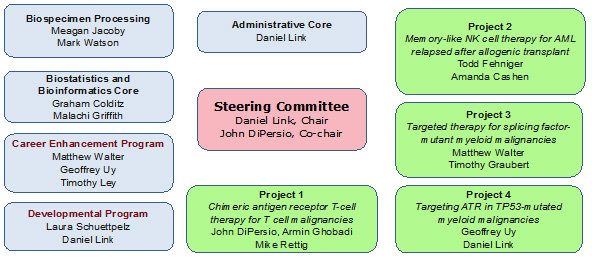 PROJECT 2: TARGETED THERAPIES FOR T CELL ACUTE LYMPHOBLASTIC LEUKEMIA (T-ALL)
Daniel C. Link, MD (basic science leader)
Geoffrey Uy (clinical science leader)
The long-term goal of this project is to develop novel targeted therapies for T-cell acute lymphoblastic leukemia (T-ALL). T-ALL is an aggressive hematologic malignancy that comprises 15% of pediatric ALL and 25% of adult-ALL. Current treatment consists of intense chemotherapy that is associated with acute and chronic life-threatening or debilitating toxicities. Five-year event-free survival is 70-75% for children, 30-40% for adults under 60, and less than 10% for adults over age 60. The prognosis after relapse is dismal, with 3-year event-free survival of only 10-15%. There is compelling evidence that increased MYC activity is central to the pathogenesis of most cases of T-ALL. Although MYC is a potent oncogene, it has an Achilles heel. In addition to providing a proliferative signal, MYC strongly induces apoptosis, in part, through an ARF/MDM2/TP53 pathway. In T-ALL this negative feedback loop is disrupted due to inactivating mutations of CDKN2A (encoding ARF). This project will explore the hypothesis that T-cell acute lymphoblastic leukemia (T-ALL) will be sensitive to drugs that interfere with MYC-survival signaling. This project includes a clinical trial of a novel CXCR4 antagonist (BL-8040) in combination with chemotherapy to treat patients with relapsed/refractory T-ALL.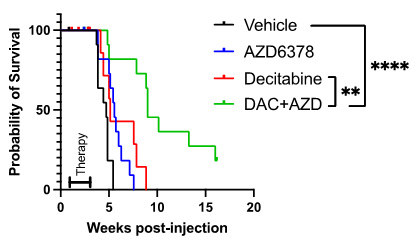 PROJECT 3: NOVEL THERAPIES FOR SPLICESOME-MUTANT MDS
Timothy Graubert, MD (basic science leader)
Matthew Walter, MD (clinical science leader)
The long-term goal of this project is to develop novel mechanism-based therapies targeting myeloid malignancies with splicing factor mutations. We and others identified frequent, recurrent mutations in RNA splicing factors (e.g., U2AF1, SF3B1, SRSF2) in patients with myeloid malignancies, including myelodysplastic syndrome (MDS), acute myeloid leukemia (AML) and chronic myelomonocytic leukemia (CMML). The canonical hotspot mutations in U2AF1 (S34F), SF3B1 (K700E), or SRSF2 (P95H) alter RNA splicing. We recently reported that expression of mutant splicing factors or pharmacologic perturbation of splicing increase the abundance of R loops, which are structures containing DNA:RNA hybrids and displaced single-strand DNA. R loops trigger an ATR-dependent DNA damage checkpoint response that mediates resolution of the R loop to protect cells from genomic instability and cell death. Our preliminary data suggest that spliceosome mutant cells are more sensitive to ATR inhibition than wild-type cells. This project will explore the hypothesis that splicing factor mutations may create a vulnerability to ATR inhibition that can be exploited for the development of novel therapeutic strategies.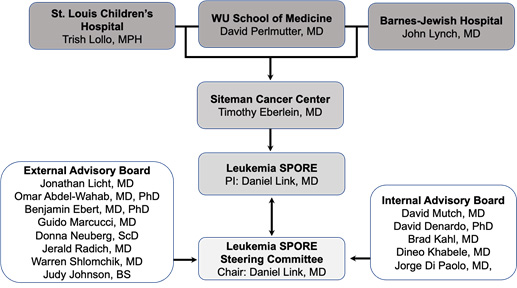 PROJECT 4: BI-SPECIFIC ANTIBODY-BASED THERAPIES FOR AML
John F. DiPersio, MD, PhD (basic science leader)
Peter Westervelt, MD, PhD (clinical science leader)
The long-term goal of this project is to develop and translate into early phase clinical trials novel antibody-based reagents for the treatment of acute myelogenous leukemia (AML). Less than half of AML patients are cured with current treatment approaches, and relapse and refractory AML patients have a median overall survival of about 4 months. Allogeneic hematopoietic cell transplant (alloHCT) remains the only curative therapy for patients with relapsed and refractory AML. However, wider application of alloHCT has been limited by the morbidity associated with the procedure, which arises from graft-versus-host disease and from the toxicity of the pre-transplant conditioning regimen. In this proposal, we will utilize antibody-based immunotherapy approaches to treat AML relapse and allow for alloHCT without the need for chemotherapy and/or irradiation. In Aim 1, we will conduct a "first-in-human" Phase I clinical trial of AMV564, a CD33 x CD3 tetravalent bispecific antibody in patients with relapsed or refractory AML (ClinicalTrials.gov id: NCT03144245).
The bispecific AMV564 molecule binds to the CD3 molecule on T lymphocytes and the molecule CD33 on leukemia cells. This activates the patients' own T lymphocytes to recognize and kill the leukemia cells. In Aim 2, we will determine if antibody-based drug conjugates can mitigate cytokine release syndrome (CRS) associated with T cell immunotherapeutics, kill AML blasts and provide conditioning for alloHSCT. We will utilize antibody-based reagents conjugated to toxins to simultaneously kill AML blasts (via CD45 or c-Kit) and condition the recipient for alloHCT by ablating host hematopoietic stem cells (via CD45 or c-Kit), and immune cells (T and NK cells via CD2 or CD7).

PROJECT 5: MEMORY-LIKE NK CELL AUGMENTED HEMATOPOIETIC CELL TRANSPLANTATION FOR AML
Todd Fehniger, MD, PhD (basic science leader)
Amanda Cashen, MD (clinical science leader)
The long-term goal of this project is to develop novel NK cell-based therapeutic strategies that will lead to clinical benefit for patients with leukemia. Hematopoietic cell transplantation was the first curative cellular immunotherapy for leukemia. These clinical remissions are achieved through immune response by the donor's immune system, in particular, T cell and natural killer (NK) cells. The aim of this project is to test the ability of functionally-amplified donor NK cells, transferred into the patient, to eliminate leukemia. We identified a highly translatable strategy to induce memory-like natural killer (NK) cells using combined interleukin (IL)-12, IL-15, and IL-18 pre-activation, which results in multiple enhanced anti-leukemia properties. First-in-human phase 1 testing performed at Washington University demonstrated the safety, feasibility, and capability of memory-like NK cell therapy from an MHC-haploidentical donor to induce complete remissions in patients with relapsed or refractory acute myeloid leukemia (AML). Further, donor memory-like NK cells expanded in the patients, trafficked to the bone marrow, and exhibited potent anti-leukemia functions. However, since donor NK cells are foreign cells to the patient (allogeneic), they are eventually rejected by the patient's immune system, resulting in only a brief 2- to 3-week window of opportunity for the NK cells to eliminate leukemia. To address this barrier of NK cell persistence, we hypothesized that augmenting MHC-haploidentical hematopoietic cell transplantation with same-donor memory-like NK cells would provide an ideal immune compatible environment that would allow for long term memory-like NK cell response. This Project tests this hypothesis in a phase 2 clinical trial of hematopoietic cell transplantation, followed within days by same-donor memory-like NK cell infusion for patients with AML not in remission. The safety, feasibility, and ability to achieve remission and improve leukemia-free survival will be tested in this high-risk subset of AML patients. In addition, cutting-edge immunomonitoring will be used to track memory-like NK cells in patients, and discovery mechanisms of response and resistance to this immunotherapy. These studies will lead to new strategies to enhance NK cell anti-leukemia responses.