Last Updated: 09/03/20
Vanderbilt-Ingram Cancer Center SPORE in Gastrointestinal Cancer
Vanderbilt-Ingram Cancer Center
Principal Investigators: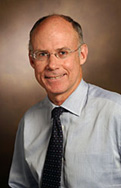 Robert J. Coffey, Jr., MD
PRINCIPAL INVESTIGATOR CONTACT INFORMATION
Robert J. Coffey, Jr., M.D.
Professor of Medicine and Cell and Developmental Biology
Vanderbilt University School of Medicine
2213 Garland Avenue
10415-G MRB IV
Nashville, TN 37232
Tel: (615) 343-6228
Email: robert.coffey@vanderbilt.edu
OVERVIEW PROGRAM
The Vanderbilt-Ingram Cancer Center GI SPORE, will focus on colorectal cancer, the second leading cause of cancer-related deaths in the United States. Our potential for success is high based on 1) productivity during the last cycle of our prior GI SPORE, 2) exceedingly strong institutional support, 3) recruitment of talented investigators to the field of GI cancer through career enhancement and developmental research funding, 4) access to unparalleled resources for drug discovery and small animal imaging, 5) a blend of young and seasoned clinical investigators and basic scientists working together in a highly collegial environment, 6) a committed group of patient advocates now organized into a patient advocacy council and 7) multiple inter-SPORE, pharmaceutical, national and international horizontal and vertical collaborations. We propose three projects and three supporting cores.
PROJECT 1: Interrogating Distinct Tumor-Initiating Cells
Project Co-Leaders:
Ken Lau (Basic Co-Leader)
Robert Coffey (Clinical Co-Leader)
A major therapeutic barrier in advanced colorectal cancer (CRC) is tumor recurrence after treatment. The "cancer stem cell hypothesis" posits that rare populations of cancer cells with stem cell characteristics, also known as tumor-initiating cells (TICs), fuel tumor growth, resist therapy, and repopulate the tumor at distal sites. In the normal colon, multiple stem cell populations exist in a reserve-to-active continuum. We hypothesize that distinct TIC populations exist in CRC, and these distinct populations of TICs have different clonogenic properties and tumor-repopulating potential. Using TICs marked by Lrig1 and Lgr5 to represent reserve and active TICs, respectively, we will use novel single-cell approaches to investigate the behaviors of these populations in the context of therapeutic intervention. First, we will determine whether there is a defined directional hierarchy where reserve TICs give rise to active TICs versus mutual interconversion. Second, we will determine whether TICs with malignant characteristics pre-exist in the primary tumor or if TICs acquire these characteristics de novo as a result of treatment. Third, we will determine whether a signature derived from TIC behaviors provides prognostic and/or predictive information for individuals with CRC. Our translational goal is to apply a systems approach to predict likelihood of tumor recurrence based on properties of TIC populations with the long-term goal of using combinatorial pathway alterations to target TIC behaviors.
PROJECT 2: Targeting Glutamine Metabolism to Enhance EGFR Blockade in WT RAS CRC
Project Co-Leaders:
H. Charles Manning (Basic Co-Leader)
Jordan Berlin (Clinical Co-Leader)
Colorectal cancer (CRC) is the second leading cause of cancer-related death in the US. A wealth of proteogenomic information has provided a deep understanding of the molecular pathogenesis of CRC and has led to improved classification systems of the disease. However, matching a CRC patient to the optimum therapeutic regimen remains a major challenge. Epidermal growth factor receptor (EGFR) neutralizing monoclonal antibodies (mAbs; e.g., panitumumab) are approved for patients with advanced wild-type (WT) RAS CRC. However, in late-line therapy, only 12-17% of patients exhibit durable responses to EGFR mAb monotherapy and addition of EGFR mAbs to standard chemotherapy has limited clinical benefit. Clearly, therapeutic strategies that enhance efficacy of EGFR mAb and/or overcome resistance are needed, along with novel ways to prioritize patients for such therapy. The metabolic requirements of proliferating cells link signal transduction with nutrient accumulation, resulting in a direct link between proliferation and metabolism. Glutamine (Gln) is a key anaplerotic substrate used by cancer cells, providing energy, carbon, and nitrogen to meet the demands of rapid and sustained growth. Gln replenishes the supply of tricarboxylic acid (TCA) cycle intermediates used to fuel biosynthesis, and also plays a critical role in depleting cytotoxic reactive oxygen species (ROS). In many cancers, EGFR and Gln cooperate to provide both 'signals' and 'fuel', which are required for mitogen activated protein kinase (MAPK)-dependent growth and proliferation. The Scientific Premise of this project is that Gln provides a 'fuel' source to support EGFR-mediated proliferation; blocking Gln metabolism will deplete a critical metabolic 'fuel' required for cell growth and proliferation. The Overall Hypothesis is that inhibition of Gln metabolism will enhance EGFR mAb therapy for a select group of patients with CRC who have failed prior EGFR mAb-containing regimens. We propose to evaluate non-invasive PET imaging as a biomarker of Gln avidity, from which we will develop a Gln PET-derived gene signature. A gene signature of Gln avidity will allow this information to be utilized in lieu of complex positron emission tomography (PET) imaging. Our project has three Specific Aims. Aim 1. Conduct a phase II clinical trial evaluating the efficacy of combined CB-839 and panitumumab in patients with WT RAS CRC who progressed on prior anti-EGFR mAb therapy. Aim 2. Evaluate quantitative Gln PET in EGFR mAb-naive and EGFR mAb-refractory patients to predict response to therapy. Aim 3. Develop a PET imaging-derived gene signature of Gln avidity to predict responsiveness to inhibitors of Gln metabolism. Spanning laboratory studies and clinical trials, deliverables of this project include a new therapeutic combination to improve response and overcome resistance to anti-EGFR mAb therapy in WT RAS CRC, as well as a new way to identify patients likely to benefit from inhibitors of Gln metabolism.
PROJECT 3: Targeting MYC
Project Co-Leaders:
Stephen Fesik (Basic Co-Leader)
William Tansey (Basic Co-Leader)
Robert Beauchamp (Clinical Co-Leader)
Recurring genetic perturbations in colorectal cancer (CRC) activate MYC, an oncogenic transcription factor that features prominently in human cancer. Despite the pervasive involvement of MYC in CRC, and a wealth of studies demonstrating that genetic inhibition of MYC promotes frank tumor regression in mouse model systems, MYC is generally considered undruggable. Indeed, there are currently no drug-like molecules capable of directly blocking MYC function in cancer cells. Recently, however, we presented a new paradigm for target gene recognition by MYC that also created a new opportunity to discover drugs that block MYC function. We found that the stable association of MYC with chromatin depends on its direct interaction with the chromatin scaffolding protein WDR5, which co-localizes broadly with MYC across the genome and facilitates MYC binding to target genes. Structural analysis revealed that MYC binds WDR5 by engaging a shallow, hydrophobic cleft on the surface of WDR5 that is well-suited for drug discovery. The goal of this project is to target the MYC-WDR5 interface to discover a drug that will disable MYC function in CRC by preventing the stable association of MYC with target gene chromatin. This project combines drug discovery, structural biology, medicinal chemistry, biochemistry, and cutting-edge genomic approaches, along with powerful model systems, to identify, refine, and validate drug-like molecules that disrupt the MYC-WDR5 interaction, and to explore their effectiveness as anti-cancer agents against CRC. Within the five year funding period, we intend to produce first-in-class MYC-WDR5 inhibitors that will be fully validated for their utility in treating CRC and ready to proceed to Investigational New Drug (IND)-enabling studies. Successful completion of this project will address a clear unmet clinical need for targeted anti-MYC therapies, which are expected to have broad efficacy against CRCs for which there are only limited treatment options. Drugs discovered in this program will likely also have utility against a wide spectrum of cancer types.
Administrative Core
Co-Directors:
Robert J. Coffey, Jr., MD
Jordan Berlin, MD
The Vanderbilt-Ingram Cancer Center SPORE in Gastrointestinal (GI) Cancer Administrative Core will support all GI SPORE cancer-related research projects and investigators by managing SPORE resources, communication and outreach, and by fostering interactions among investigators, collaborators, other Vanderbilt-Ingram Cancer Center SPOREs, other GI SPOREs, the patient and advocate community, and the National Cancer Institute. This management and support will be accomplished by administrative and scientific meetings of GI SPORE investigators with oversight provided by the Internal and External Advisory Boards.
Tissue Pathology and Cellular Analysis Core
Co-Directors:
Mary Kay Washington
Ken Lau
The Translational Pathology and Cellular Analysis (TPCA) Core, will play a central role in the translational research mission of this SPORE, providing essential support for all projects by providing annotated human biospecimens and research histology services. It includes with a single-cell analysis subcore under the direction of Dr. Ken Lau. This subcore will enable technologies for quantifying and analyzing protein expression at a multiplex, single-cell level, greatly augmenting the histopathology capabilities of the TPCA on both formalin fixed paraffin embedded (FFPE), fresh, and frozen tissue samples. While the primary mission of the TPCA is state-of-the-art immunohistochemistry, research pathology and biorepository services, the single-cell analysis subcore will offer three cutting-edge technologies: inDrop single-cell RNA sequencing, multiplex immunofluorescence, and disaggregation for intracellular signaling in single epithelial cells from tissue (DISSECT) followed by cytometry by time-of-flight mass spectrometry (CyTOF), and their associated computational analyses. The single-cell analysis subcore will offer services, from the preparation and processing of samples, the generation and verification of epithelial-specific reagents, screening and validation of targets, and finally, computational data analysis. Single-cell data will be synthesized and presented to investigators in adaptable formats for presentation and/or downstream analysis. A specific strength of this subcore in relation to the GI SPORE is that Dr. Ken Lau's research focus is on GI disorders and his expertise will greatly synergize with the research of GI neoplasms. We can offer highly specific molecular assays that can flexibly query a wide range of biological processes including the evaluation of signaling, cell identity, function, and behavior, all within a single cell. The TPCA will partner with other established tissue collection and immunohistochemistry shared resources, such as the Vanderbilt University Medical Center Translational Pathology Shared Resource and the Digital Histology Shared Resource, to provide exceptional services to the GI SPORE in a highly cost-effective manner. Close collaboration with the Biostatistics and Bioinformatics Core will provide the TPCA and GI SPORE with robust informatics and database tools for collection, distribution, and annotation of biospecimens in the GI SPORE repository. Dr. Washington and Dr. Lau have developed synergistic working relationships with imaging services under the direction of Dr. Charles Manning and these will be maintained between the TPCA and the Mouse and Human Molecular Imaging Core.
Mouse and Human Molecular Imaging Core
Co-Directors:
Mingfeng Bai, PhD
Bhuminder Singh, PhD
The Mouse and Human Molecular Imaging (MHMI) Core will play a central role in the translational research mission of the Vanderbilt-Ingram Cancer Center (VICC) SPORE in Gastrointestinal (GI) Cancer, providing state-of-the-art imaging resources for three projects, future pilot and feasibility studies, and developmental research. The MHMI Core will leverage existing, institutionally-supported equipment and infrastructure to offer a full range of small animal and human functional, molecular, and anatomical imaging resources, including magnetic resonance imaging (MRI), computed tomography (CT), digital X-ray, optical, single photon emission computed tomography (SPECT), and positron emission tomography (PET). A unique feature of this core, VICC GI SPORE investigators will also have access to novel probe development resources that leverage the capabilities of the Vanderbilt Center for Molecular Probes (CMP), including high-throughput, diversity-oriented synthesis capabilities suitable for developing novel imaging compounds, as well as world-class preclinical and cGMP resources of the CMP radiochemistry facility. The MHMI has three Specific Aims: Aim 1. To develop, optimize, and provide quantitative surrogate molecular imaging biomarkers of colorectal cancer (CRC) for support of preclinical and clinical research; Aim 2. To provide support for imaging data analysis customized to project-specific applications, including co-registration and integration of multiple imaging modalities, along with quality control metrics to be performed as part of all preclinical and clinical research studies; Aim 3. To work with both the Tissue Pathology and Cellular Analysis (TPCA) Core and the Biostatistics and Bioinformatics (BBC) Core to establish strategies for networking of requests, specimen tracking, extraction of de-identified data relating to imaging, biospecimens, and other research data. Translational goal: Molecular imaging holds great promise to illuminate the cellular and molecular underpinnings of individual tumors. Complementary to genomic approaches, molecular imaging provides a quantitative, functional measure of tumor 'phenotype', and, when coupled with other tissue-based or newer 'liquid' biopsy approaches, can provide a wealth of biological information about individual tumors. The MHMI Core will provide VICC GI SPORE investigators a mechanism and the expert personnel required for advancing cutting-edge translational research in CRC through the use of non-invasive molecular imaging in mice and humans.
Biostatistics and Bioinformatics Core
Co-Directors:
Yu Shyr
The purpose of the Biostatistics and Bioinformatics Core (BBC) is to provide professional expertise in biostatistics and bioinformatics for all Vanderbilt-Ingram Cancer Center SPORE in Gastrointestinal (GI) Cancer projects, investigators, and participants. Functions provided by this core include development of experimental designs, power analysis and sample size estimation, data quality control, statistical/bioinformatics analysis and interpretation of findings, and collaboration on presentation of results. To achieve these functions, the core director and core members are constantly available to investigators, with key biostatisticians and bioinformaticians assigned to each project, and all are in regular contact with the project and core leaders.
The primary objectives of the BBC are:
To provide study design and review all laboratory, animal, translational, epidemiological, and clinical studies including feasibility assessment, power analysis, and sample size estimation;
To collaborate in project data analysis including bioinformatic pre-processing analysis, interpretation of results, and the writing of final study reports and manuscripts;
To work with the Tissue Pathology and Cellular Analysis Core and Mouse and Human Molecular Imaging Core in the development of research project databases, to maintain data quality control and to ensure timely data capture;
To develop and evaluate statistical/bioinformatic methods for experimental design and data analysis.
BBC support is required in all VICC GI Cancer SPORE studies, with biostatisticians and bioinformaticians assigned to each project. Core personnel have worked and will continue to work closely with project leaders to ensure the core provides state-of-the-art statistical/bioinformatic support.
Developmental Research Program (DRP)
Director:
Robert Beauchamp
The overall objective of the Developmental Research Program (DRP) within the Vanderbilt-Ingram Cancer Center SPORE in Gastrointestinal (GI) Cancer (hereafter, VICC GI SPORE) is to encourage innovative translational research in GI neoplasia. The DRP will be led by a Director (R. Daniel Beauchamp, MD) and will be supported by the Developmental Research Advisory Committee (DRAC) made up of senior investigators at Vanderbilt and Meharry Medical College (MMC). The DRP leadership has significant crossover with the Career Enhancement Program (CEP) leadership to encourage CEP recipients to apply for DRP funding and to identify promising investigators from DRP for the CEP. The VICC GI SPORE DRP will use an established and highly effective procedure to solicit applications from investigators at Vanderbilt, MMC, and Tennessee State University. The Director and the DRAC will also actively solicit applications from targeted investigators (women and underrepresented minorities) within the three institutions. Internal and external researchers, including members of the GI SPORE External Advisory Board, will review applications using the NIH 9-point scoring system. Reviewers will evaluate scientific merit and the likelihood of the project to support current GI SPORE activities, lead to extramural funding, and/or lead to future GI SPORE projects. Special emphasis will be placed on attracting young investigators into GI cancer research, high risk/high gain projects, and projects that incorporate emerging technologies and apply them to GI cancer research. Thus, the VICC GI SPORE DRP will offer the opportunity for new directions of study that may be of higher risk but also have a significant chance for reward, including independent funding and additional projects that may form the basis of the next competing renewal.
Career Enhancement Program (CEP)
Director:
W. Kimryn Rathmell
The goal of the Vanderbilt-Ingram Cancer Center (VICC) SPORE in Gastrointestinal (GI) Cancer Career Enhancement Program (CEP) is to provide individuals with the training, mentorship, and collaborative interactions necessary for them to have successful and independent careers in translational GI cancer research. We have a multi-faceted and multi-layered plan for selecting and mentoring exceptional physicians and scientists to advance careers in GI cancer research and care. The goal is to provide CEP recipients with both an integrated, multi-disciplinary environment and an individualized mentored research experience that facilitate the development of outstanding research programs and successful academic careers.