Last Updated: 09/10/21
Mayo Clinic Breast Cancer SPORE
Mayo Clinic
Principal Investigator(s) Contact Information
Matthew P. Goetz, MD
Professor of Oncology
Professor of Pharmacology
Chair, Mayo Breast Cancer Research Group
Co-Leader, Women's Cancer Program
Mayo Clinic College of Medicine
200 First St. S.W.
Rochester, MN 55905
Tel: (507) 284-7371
Fax: (507) 284-1803
Overview
The vision of this second renewal of the Mayo Clinic Breast Cancer SPORE is that the burden of breast cancer can be reduced through the performance of innovative translational research accomplished by addressing research questions of high significance for women. The mission of the SPORE is to accomplish this vision. The Breast SPORE research portfolio has been developed with a balance of research projects that maximizes the impact of the research and provides the greatest likelihood of realizing the vision. The research proposed addresses fundamental problems, is applicable to a vast number of women, and is highly translatable to change clinical practice.
The research portfolio addresses four major research questions that will have a direct impact on women both at risk of breast cancer as well as those with both early and late stage breast cancer. The approach taken to answer these research questions will serve to facilitate achievement of the vision articulated above.
Project 1: Cancer risks for mutations in breast cancer predisposition genes
Project Co-Leaders:
Fergus J. Couch, PhD (Basic Science Co-Leader)
Susan M. Domchek, MD (Clinical Science Co-leader) (University of Pennsylvania)
Many women have inherited mutations in breast cancer genes that increase their chances of developing breast cancer in their lifetime. In many families these inherited mutations can cause cancer in multiple family members. Because of concerns about high risks for breast cancer, many women with breast or ovarian cancer in their families are advised to have clinical genetic testing of panels of genes to look for the specific mutations that may account for the cancer in their family.
However, the clinical genetic testing panels of breast and ovarian cancer predisposition genes contain many genes with unclear involvement in these cancers. In addition, the risks of cancer associated with mutations in many of these genes are not known. As a result, women with mutations may be given improper recommendations for management of their risks of cancer leading to confusion and potentially significant harm.
We propose to establish the risks of breast and other cancers associated with pathogenic mutations in the cancer genetics testing panels by collecting information from cancer genetics testing companies and from the PROMPT on line Registry (Prospective Registry of Multiplex Testing) for women with inherited mutations in predisposition genes. We plan to enroll individuals who were tested for mutations along with their relatives into the study. We will use the information to determine which genes increase risks of breast and ovarian cancer, define the specific risks associated with mutations in each gene, identify which variants of uncertain significance (VUS) in these genes increase risks of cancer, and study the tumors from participants with mutations to establish if certain tumors have the potential to be treated effectively with selected therapy.
The most immediate clinical outcome is that women found to have mutations in the cancer genetic panel genes will receive accurate information about their risks of cancer. This is expected to lead to improvements in the use of mammography and MRI screening and prophylactic risk reducing surgeries for this group of individuals.
Project 1 Specific Aims are:
Define the penetrance of breast and ovarian cancer associated with inactivating mutations in panel based predisposition genes.
Determine the clinical relevance of VUS in panel-based known predisposition genes.
Assess clinical-pathological features of mutations in cancer predisposition genes.
Project 2: Therapeutic Targeting of Estrogen Receptor Beta in Triple Negative Breast Cancer
Project Co-Leaders:
John R. Hawse, PhD (Basic Science Co-Leader)
Matthew P. Goetz, MD (Clinical Science Co-Leader)
This year, more than 1.6 million women will be diagnosed with breast cancer worldwide of which 300,000 (15-20%) will have a form of the disease classified as "triple negative breast cancer". Triple negative breast cancer (TNBC) is defined by the lack of expression of estrogen receptor alpha (ERa), the progesterone receptor and HER2 within the tumor cells. In patients with ERa positive and/or HER2 positive disease, highly effective and generally well tolerated targeted therapies exist such as tamoxifen, aromatase inhibitors and Trastuzumab (Herceptin) which substantially reduce breast cancer recurrence and prolong survival. However, for TNBC patients, prognosis is extremely poor and no targeted therapies currently exist leaving chemotherapy based regimens as the only treatment option for these individuals. Despite our best treatment plans, 5 year disease free survival rates for women with TNBC are approximately 50% and nearly all patients that develop distant metastasis succumb to their disease. For these reasons, it is essential to identify novel drug targets and treatment strategies to more effectively treat, manage and hopefully cure TNBC.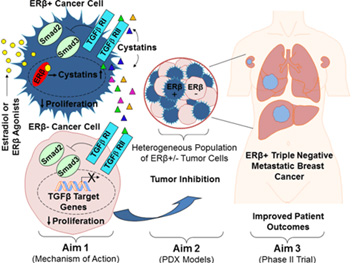 The basis of this project arose from our discovery that up to 30% of triple negative breast tumors express a second form of the estrogen receptor known as ERβ. Given that ERa remains the most common and important drug target for the treatment of breast cancer, we sought to determine if ERβ could serve as a novel drug target for TNBC. Through the development of multiple cell line and animal model systems, we have demonstrated that estrogen, or drugs that specifically bind to and activate ERβ, elicit tumor suppressive effects in ERβ positive TNBC. Other preliminary data suggest that these anti-cancer effects of ERβ appear to be mediated in part by a family of proteins known as the cystatins which are highly induced by ERβ in TNBC cells. We have also provided evidence that elevated cystatin levels lead to suppression of TGFβ signaling, a pathway known to drive TNBC tumor progression, metastasis, and resistance to chemotherapy regimens. Based on these data, we hypothesize that therapeutic activation of ERβ will result in clinical benefit for patients with ERβ+ TNBC by regulating a series of events that involves the induction of cystatins and suppression of canonical TGFβ signaling. This project culminates in a phase II study of estradiol in ERβ+TNBC within the Translational Breast Cancer Research Symposium.
Project 2 Specific Aims are:
Determine the role of cystatins, and their impact on TGFβ signaling, in mediating the anti-cancer effects of ERβ in TNBC and characterize the expression of these biomarkers in a large cohort of TNBC patients.
Characterize the in vivo effects of estradiol and LY500307 (an ERβ specific drug) on ERβ+ TNBC patient derived xenografts.
Conduct a phase II clinical trial to elucidate the therapeutic efficacy of estradiol in ERβ+ TNBC patients.
Project 3: Measles Virus Based Immunovirotherapy in the Treatment of Metastatic Breast Cancer
Project Co-Leaders:
Eva Galanis, MD (Basic Science Co-Leader)
Minetta C. Liu, MD (Clinical Science Co-Leader)
Breast cancer is the most common malignancy and the second leading cause of female cancer mortality in the US. Despite the availability of endocrine therapy, chemotherapy, and biologic agents such as trastuzumab, metastatic breast cancer remains incurable. Recent laboratory studies have led to clinical hypotheses and planned clinical trials that are expected to have significant impact by introducing an entirely new therapeutic approach — immunovirotherapy — to the armamentarium against breast cancer.
Oncolytic viruses preferentially infect and kill cancer cells. MV-CEA and MV-NIS are modified strains of the measles (MV) Edmonston vaccine strain that express CEA and NIS as markers of MV infection. Clinical data derived from phase I clinical trials of the measles derivatives MV-CEA and MV-NIS in patients with multiple myeloma and ovarian cancer confirm the potential for antitumor efficacy and have demonstrated the development of antitumor immune responses in ovarian cancer patients. MV-NAP is a newer vaccine strain that we engineered to express neutrophil activating protein (NAP), a Toll-like receptor agonist that stimulates the immune system in order to heighten a patient's own tumor-specific systemic immune response. Pilot toxicology studies of MV-NAP in mouse models support its safety, and this strain demonstrated superior efficacy in preclinical breast cancer models as compared to unmodified strains. Of particular significance is the observation that response was independent of HER2 and hormone receptor status in these models.
PD-1/PD-L1 blockade has already entered standard clinical practice with recent FDA approvals in melanoma, non-small cell lung cancer, kidney cancer, and lymphoma. A recent phase Ib trial of pembrolizumab in patients with heavily pretreated, hormone receptor negative, HER2 negative, metastatic breast cancer provides early evidence of a role for PD-1/PD-L1 blockade in this malignancy. The follow-up phase II breast cancer trial is ongoing.
We hypothesize that PD-1/PD-L1 blockade will synergistically augment the promising immunostimulatory potential of MV-NIS and MV-NAP induced oncolytic cell death in breast cancer; preclinical work in immunocompetent breast cancer models supports this hypothesis. We have partnered with members of our Breast Advocacy Advisory Committee and will conduct two first in-human phase I clinical trials of single agent MV-NIS and MV-NAP to determine safety, toxicity, and the maximally tolerated dose of intratumoral MV administration in metastatic breast cancer. These studies will also allow for exploration of tissue and blood biomarkers as predictors of treatment benefit. Parallel preclinical studies will be performed to evaluate the optimal sequence and combination of MV and PD-1/PD-L1 blockade. This work will culminate in a novel phase I study of MV administration in combination with PD-1/PD-L1 blockade to assess safety, toxicity, and dose in addition to the potential efficacy and immunostimulatory potential of this novel drug combination.
Project 3 Specific Aims are:
Conduct the first in-human phase I clinical trial of single-agent intratumoral MV-s-NAP in metastatic breast cancer.
Evaluate the efficacy, optimal sequence, and mechanism of action of MV virotherapy in conjunction with antibody blockade of the PD-1/PD-L1 axis in immunocompetent breast cancer models; conduct preclinical toxicology studies to evaluate the safety of combination therapy in measles replication permissive transgenic models and assess biodistribution.
Conduct the first phase I clinical trial of intratumoral MV-s-NAP combined with PD-1 blockade in patients with metastatic breast cancer.
Project 4: Pharmacogenomics of Aromatase Inhibitors in Early Stage Postmenopausal Breast Cancer
Project Co-Leaders:
Liewei Wang, MD, PhD (Basic Science Co- Leader)
James N. Ingle, MD (Clinical Science Co-Leader)
Endocrine therapy plays a central role in the management of the majority (about two thirds) of women with breast cancer whose tumors have the target, the estrogen receptor (ER). A recent meta-analysis showed that aromatase inhibitors (AIs) were superior to tamoxifen as adjuvant therapy in early-stage disease, but despite this superiority, about one-fifth of women treated with AIs had recurrence of their breast cancer by 10 years. In addition to variability in outcomes with AIs, there is also a marked variability in tolerance, which can adversely impact adherence to treatment. AIs act by decreasing a woman's estrogen levels. The assumption is that all AIs produce sufficient estrogen suppression. However, our Preliminary Data showed marked variation in estrogen levels before and while on treatment with the AI anastrozole. However, it remains unknown whether the degree of estrogen suppression, or how to best quantify it, is related to degree of clinical benefit of AIs.
We also have Preliminary Data from a genome-wide association study (GWAS), using germline DNA from patients receiving AIs, showing that the variability in AI-related adverse events and outcomes is related to variation in host (germline) genetics. Furthermore, our preliminary findings with this genetic variability (in terms of single nucleotide polymorphisms [SNPs] and genes) identified to be associated with estrogen suppression by AIs and breast recurrences provide a strong rational to test the hypothesis that genetic variability plays an important role in AI response, and this effect might be through the regulation of estrogen suppression. Of particular interest is that our functional studies of these genetic variants and genes also showed a SNP- and individual AI-dependent regulation of the expression of the aromatase gene. The aromatase gene encodes the enzyme aromatase which is responsible for generation of estrogens. This novel finding has potentially important implications for precision AI treatment.
Therefore, in this project, we will take advantage of the extensive resources and Preliminary Data we have obtained. These include three major multi-center clinical trials involving all three third-generation AIs (anastrozole, exemestane, letrozole) for which we already have genome-wide genotyping available: 1) our own M3 study of anastrozole alone with estrogen levels pre and on anastrozole and anastrozole and anastrozole metabolite concentrations, 2) the MA.27 trial, comparing anastrozole and exemestane, from which we have published two GWAS relating to adverse events, and 3) the PreFace, a single-arm letrozole trial. MA.27 and PreFace have clinical follow-up data as well as biospecimens before and on AI treatment that would allow us to determine if the degree of estrogen suppression correlates with clinical AI treatment outcomes and, with genotyping data, the common or AI-specific SNPs that are associated. We will then test the SNPs related to estrogen suppression in a prospective trial. Of crucial importance, we will also perform functional studies of those SNPs to elucidate mechanisms by which they might affect estrogen levels and AI response. These findings would have direct implications for the majority of women with breast cancer and would contribute to precision endocrine therapy with the AIs.
Project 4 Specific Aims are:
Determine the relationship between degree of estrogen suppression by AIs and early breast cancer events using the PreFace study as a discovery set and MA.27 as a validation set.
Determine SNPs and genes associated with degree of estrogen suppression and early breast cancer events.
Determine functional significance of SNPs and genes associated with AI-related estrogen suppression and early breast cancer events and evaluate SNPs in a prospective clinical trial.
Administrative Core
Core Directors:
Matthew P. Goetz, MD
James N. Ingle, MD
The Co-Directors of the Breast SPORE and Co-Leaders of the Administrative Core, Drs. Goetz and Ingle, have responsibility for the overall scientific, administrative and fiscal activities of the Mayo Clinic Breast Cancer SPORE. The leadership plan in place involves joint decision making. The core's primary responsibilities are the optimal productivity of the highest quality of breast cancer translational research by the full research projects of the SPORE, the Developmental Research Program, the Career Enhancement Program, and ensuring that the cores are optimally supporting these research activities. They ensure that the scientific goals of the SPORE are met efficiently, with scientific validity, and with continued focus on translating scientific discoveries into the clinic. Drs. Goetz and Ingle are responsible for communicating with NCI on operational and scientific matters, and for developing and encouraging inter-SPORE interactions.
Biospecimen and Pathology Core
Core Directors:
Daniel Visscher, MD
Jodi Carter, MD, PhD
The most important role of Biospecimen Core is the collection, archiving and distribution of tissue samples needed for SPORE scientific studies. The core stores tissues in a special manner so that critical cellular constituents, such as DNA and RNA, are preserved. Nearly all of the samples collected within the Biospecimen and Pathology Core are linked with the clinical outcomes of Mayo patients. This allows researchers to test whether a given biomarker is associated with tumor characteristics — such as presence of estrogen receptor (ER) expression or patient outcomes such as breast cancer free survival. The core manages these functions in a manner that respects patient safety, assures appropriate consent and optimizes a limited and invaluable resource. To date, our team has collected thousands of tissue samples, details about which are continuously collected and recorded in a protected database that interfaces with the Biostatistics, Bioinformatics, and Patient Registry Core and the Administrative Core. In addition to proving critical services to the Mayo SPORE researchers, the core provides tissue assets to other researchers who have projects designed to learn more about breast cancer biology and treatment.
The other function of the core is to provide special expertise with test development or microscopic examination of tissue samples. For example, our pathology team has participated in evaluation of novel tests that have been pioneered by SPORE investigators. The importance of this activity relates to the eventual clinical utilization of discoveries made by research studies and treatment trials, most of which will impact on testing of breast cancer samples in routine patient care settings. The Biospecimen and Pathology Core accomplishes this by incorporating activity and expertise of both pathologists involved in clinical practice as well as individuals in the Pathology Research Core, a specialized facility at Mayo that develops tissue-based testing for investigators. Over the years, the core has developed over a dozen specialized tests and assays.
Biostatistics, Bioinformatics and Patient Registry Core
Core Directors:
Mei-Yin C. Polley, PhD
Vera Sunman, PhD
The Biostatistics, Bioinformatics and Patient Registry Core provides professional expertise in biostatistics and bioinformatics for all Breast Cancer SPORE projects. The statistical and bioinformatics needs of each of the SPORE projects vary substantially. Access to a team of statistical/bioinformatics collaborators with breast cancer content knowledge is critical to ensure the application of sound statistical and bioinformatics analysis techniques to the complex data generated in these diverse projects. Core C investigators have diverse and complementary skills and are experts in the areas of clinical trials, biomarker discovery, biomarker assay development and validation, computational biology, and bioinformatics. Functions provided by Core C include development of experimental designs, data collection and data management support, data quality assurance, database construction and maintenance, statistical and bioinformatic analysis, interpretation of findings, and collaboration on presentation of study results. The Biostatistics, Bioinformatics and Patient Registry Core is well positioned to meet the diverse needs and address the translational goals of the Breast SPORE.
Developmental Research Program
Program Director:
Fergus Couch, PhD
The Developmental Research Program (DRP) of the Mayo Clinic Breast Cancer SPORE is committed to supporting innovative and high-quality projects with the greatest potential to provide a scientific basis for future translational and clinical research to reduce the burden and mortality from breast cancer. The DRP is of great importance to the success of the SPORE because it enables a proactive approach to identifying and supporting innovative hypothesis-driven research. This program: (1) encourages and solicits innovative translationally-relevant laboratory, population and clinical study proposals; (2) encourages and supports interdisciplinary collaboration in translational research in breast cancer; and (3) generates new hypotheses that can be tested in larger-scale research projects or clinical trials that can impact breast cancer. The availability of this support provides a stimulus for creativity in the research community, a vehicle for encouraging the interaction of basic scientists and translational investigators, and an opportunity for expanding the research portfolio of the SPORE by pursuing leads based on new discoveries and/or opportunities.
Career Enhancement Program
Program Director:
Matthew P. Goetz, MD
The main goal of the Career Enhancement Program (CEP) of the Mayo Clinic Breast Cancer SPORE is the identification and mentoring of junior faculty with the clear and best potential to become independent translational researchers in breast cancer who are committed to the goal of reducing the burden of this disease through improving prevention, diagnosis, or treatment. The environment at Mayo Clinic is ideal for the achievement of this goal in that there exists a pool of promising young faculty who can be supported by a pool of highly qualified, established, and interactive investigators to serve as mentors. The mentors are all established researchers in breast cancer and members of the Women's Cancer Program of the Mayo Clinic Cancer Center (MCCC). The Women's Cancer Program is a standing translational program in the MCCC Cancer Center Support Grant (CCSG) with investigators from Mayo Clinic Rochester (MCR), Mayo Clinic Florida (MCF) and Mayo Clinic Arizona (MCA).