Last Updated: 08/15/19
Duke SPORE in Brain Cancer
Duke University
Principal Investigators: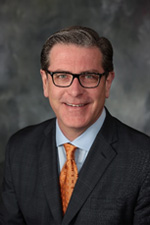 John Sampson, MD, PhD, MHSc, MBA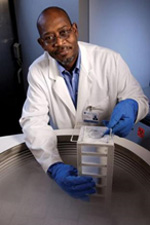 Francis Ali-Osman, DSc
PRINCIPAL INVESTIGATOR CONTACT INFORMATION
John H. Sampson, MD, PhD, MHSc, MBA
Robert H., M.D., and Gloria Wilkins Distinguished Professor of Neurosurgery
Chair, Department of Neurosurgery
Physical Address: 200 Trent Drive, Blue Zone, Suite 1554, Durham, NC 27710
Mailing Address: Box 3271, DUMC, Durham, NC 27710
Phone: (919) 684-1043
Fax: (919) 684-9045
Email: john.sampson@duke.edu
Francis Ali-Osman, DSc
Margaret Harris and David Silverman Distinguished Professor of Neuro-Oncology Research
Professor Emeritus in Neurosurgery
Box 3156, DUMC
Durham, North Carolina 27710
Phone: (919) 681-5769
Fax: (919) 684-5483
Email: francis.aliosman@duke.edu
OVERVIEW
Malignant primary brain tumors, like glioblastoma (GBM), are the most frequent cause of cancer death in children and young adults and account for more deaths than cancer of the kidney or melanoma. Moreover, current therapy is incapacitating and limited by non-specific toxicity to systemic tissue or surrounding eloquent brain. Building on the Duke Brain Tumor Program's longstanding focus on development, refinement, and testing of immunotherapies to treat low-grade gliomas and GBM, the Duke SPORE in Brain Cancer continues work to develop new or improve existing therapies to improve the life of patients with primary malignant brain tumors.
Innovative research proposed includes:
studies of potent neoantigen and Cytomegalovirus vaccines in the context of regulatory T cell depletion using a novel approach targeting CD27 to overcome both host immunosuppression and antigenic heterogeneity endemic to GBM (Project 1);
studies employing a novel therapeutic strategy to reverse the recently discovered phenomenon of T cell sequestration in patients with GBM and overcome the limitations imposed on immunotherapy by longstanding lymphopenia in this population (Project 2); and
studies examining the mechanisms and efficacy of a novel cellular tumor vaccine strategy that uses antigen-loaded monocytes and an endogenous antigen transfer pathway to stimulate potent anti-tumor T cell responses (Project 3).
PROJECT 1: NEOANTIGEN IMMUNOTHERAPY IN BRAIN TUMORS USING ANTI-CD27 TO DEPLETE REGULATORY T CELLS SELECTIVELY
Co-leaders:
John H. Sampson, MD, PhD, MHSc, MBA (Clinical Co-Leader)
Qi-Jing Li, PhD (Basic Co-Leader)
Project 1 builds novel preliminary data demonstrating the ability of a clinically available CD27 agonist antibody (αCD27) to simultaneously deplete TRegs and enhance vaccine-induced immune responses. Aim 1 will evaluate the safety and therapeutic potential of a neoantigen and Cytomegalovirus antigen vaccine in combination with dose-escalating αCD27 in patients with GBM. Cumulative results will provide critical data on the feasibility and immunogenicity of neoantigen vaccination in patients with GBM to determine if a larger trial is warranted. Aim 2 will determine if αCD27 simultaneously depletes TRegs and increases vaccine-induced immune responses. It is expected that αCD27 will reduce TRegs in this patient population while improving vaccine-induced CD8+ and CD4+ T cell responses. If successful, this work will develop a therapeutic strategy for patients with GBM that has enhanced efficacy by addressing the issues of host immunosuppression and intratumoral heterogeneity.
PROJECT 2: "ARRESTING" BONE MARROW T CELL SEQUESTRATION IN GBM
Co-leaders:
Peter Fecci, MD, PhD (Clinical Co-Leader)
Robert Lefkowitz, PhD (Basic Co-Leader)
Immunotherapies continue as an active and promising area of investigation, but clinical success has been limited by GBM's surprisingly potent capacities for eliciting severe local and systemic immune dysfunction, including profoundly low circulating T cell counts. Building on our findings that these low counts are in part due to S1P1-mediated sequestration of T cells in the bone marrow, this project will determine how T cell sequestration varies with current GBM treatments, identify biomarkers to improve selection of GBM patients for intervention, and screen novel agents that can release T cells from the bone marrow as promising immunotherapeutic adjuncts.
PROJECT 3: A NOVEL CELLULAR TUMOR VACCINE STRATEGY FOR MUTANT IDH1+ GLIOMA
Co-leaders:
David Ashley, MD (Clinical Co-Leader)
Michael D. Gunn, MD (Basic Co-Leader)
Brain tumors typically begin as slow growing low grade gliomas (LGGs) that transform in almost all cases to a universally lethal high grade glioma (HGGs) within 10 years. Traditional therapies do not prevent the ultimate progression from LGG to HGG. This project proposes a cell-based vaccine strategy to target a mutation in isocitrate dehydrogenase 1 (IDH1) found in the vast majority of LGGs and secondary HGGs. This vaccine strategy has the potential to significantly improve outcomes in patients with mutant IDH1-expressing gliomas.
ADMINISTRATIVE CORE
Core Directors:
John H. Sampson, MD, PhD, MHSc, MBA
Francis Ali-Osman, DSc
The Administrative Core is responsible for organizing and supporting the research projects, Shared Resource Cores, the Developmental Research Program and the Career Enhancement Program. The Core provides leadership, coordination, oversight, infrastructure, and support personnel to facilitate administrative management; promotes integration, communication, and collaboration; ensures fiscal and regulatory compliance; and oversees data operations, scientific rigor, and research progress. By serving these functions, the Administrative Core allows SPORE investigators to focus on conducting and disseminating the translational science supported by the SPORE.
CORE 1: BIOSTATISTICS AND BIOINFORMATICS
Core Directors:
James E. Herndon, II, PhD
Kouros Owzar, PhD
This Biostatistics and Bioinformatics Core will provide biostatistical and bioinformatics expertise to support all studies in the SPORE in Brain Cancer, to ensure that reliable, reproducible results are generated that have maximal impact. The Core will provide biostatistical leadership and expertise in the study design, conduct, sample size calculations, randomization, monitoring, analysis, and reporting of clinical studies in brain cancer by collaborating at all project stages, from study design to interpretation and publication of results. In addition, Core 1 will contribute bioinformatics expertise to the conduct, analysis, and reporting of correlative studies associated with clinical trials. Finally, the Core will facilitate integration of clinical, laboratory, and correlative data generated by Projects and Cores and promote data integrity.
CORE 2: CLINICAL TRIAL OPERATIONS
Core Directors:
Annick Desjardins, MD, FRCPC
Darell D. Bigner, MD, PhD
The Clinical Trial Operations Core provides clinical leadership, infrastructure, and expertise for the proposed research and clinical trials with patients. The Core ensures the safe and efficient conduct of clinical studies and recruitment, consent and enrollment of a diverse group of subjects for biospecimen collection and clinical studies. Through these Aims, the Core provides critical oversight of the full range of clinical trial activities, including study design, protocol preparation, research staff training, patient recruitment, patient evaluation during treatment and follow-up, assessment and treatment of complications, and evaluation of patient outcomes. To ensure rigorous trial conduct, the Core maintains a full portfolio of standard operating procedures (SOPs). In addition, the Core is fully integrated with other Duke Brain SPORE components to ensure seamless research coordination.
CORE 3: BIOREPOSITORY, PATHOLOGY, AND IMMUNE MONITORING
Core Directors:
Roger McLendon, PhD
Kent Weinhold, PhD
The Biorepository, Pathology, and Immune Monitoring Core provides scientific leadership as well as comprehensive and state-of-the-art biospecimen, pathologic, and immune monitoring support. The Core will:
Provide blood and tissue distribution and tracking services, tissue diagnosis, immunohistochemical (IHC) and biobanking support to the Projects' clinical and correlative studies.
Provide GCLP-compliant, comprehensive Immune Monitoring of patients enrolled in the Projects' clinical studies using standardized and validated state-of-the-art flow cytometry-based immune profiling platforms.
In addition, the Inter-SPORE consortium for immune monitoring will continue to share development and validation of new immune profiling platforms while also attempting to standardize all aspects of specimen acquisition, preparation, transport, and evaluation according to a uniform set of Standard Operating Procedures (SOPs).
DEVELOPMENTAL RESEARCH PROGRAM
Directors:
Francis Ali-Osman, DSc
John H. Sampson, MD, PhD, MHSc, MBA
CAREER ENHANCEMENT PROGRAM
Directors:
John H. Sampson, MD, PhD, MHSc, MBA
David Ashley, MD
Ann Marie Pendergast, PhD