Last Updated: 03/27/23
Mia Garret, MPH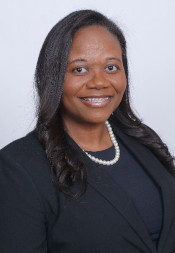 Program Coordinator
Translational Research Program
Division of Cancer Treatment and Diagnosis
National Cancer Institute
9609 Medical Center Drive, Room 3W120
MSC 9726
Bethesda, MD 20892
Phone: (240) 276-6031
Fax: (240) 276-7881
Email: mia.garrett@nih.gov
Portfolios: Brain, Gastrointestinal, Head & Neck, Hyperactive RAS, Liver, Pancreatic
Ms. Garrett joined the Translational Research Program in January 2021. She is responsible for providing guidance to SPORE applicants and grantees on NIH pre- award and post -award policies and procedures such as PAR specific requirements, data management and resource sharing, human subjects and clinical trial reporting, progress reports, carryover and budgeting.
In 2019, Mia Garrett joined the National Institutes of Health as a Project Manager at National Institute of Allergy and Infectious Diseases, Division of AIDS, Therapeutics Research Program. Ms. Garrett performed analytic reviews of programmatic operations and productivity, tracked the program's funding plan and budgets, analyzed the program's grant portfolio, developed onboarding programs and training initiatives for Medical Officers and Program officers and developed programmatic working instructions and guidance documents. She also supported the DAIDS Clinical Science Review Committee and coordinated expedited review of COVID 19 therapies for the ACTIV- 2 clinical trial.
Prior to joining NIH, Ms. Garrett was the Graduate Program Manager at the Jiann Ping Hsu College of Public Health at Georgia Southern University. In this role she managed recruitment, admissions, academic planning, and evaluation of 12 graduate programs.
Ms. Garrett earned a Bachelor of Science in Health Sciences and Master of Public Health with a concentration in Health Policy and Management from Georgia Southern University. Ms. Garrett has guided numerous strategic projects, managed programs, and grants, fostered partners and synthesized information and policies in actionable items to foster the administration of health science research.